Falkirk Council: Westfield Road improvements receive the go-ahead
Falkirk Council board members have agreed to go ahead with revised plans which would see the A9 and A904 around Westfield become a dual carriageway, in a bid to improve traffic between the M9 Earlsgate junction and the Forth Valley College campus.
However, council members agreed that plans to build a futuristic bridge that would take pedestrians and cyclists on the roads were no longer feasible, despite £20m of UK Government funding for Leveling Up.
With construction costs still rising, the cost of the project had risen to £25 million and was no longer reasonable. Instead, plans show dedicated cycle/pedestrian paths that back off road traffic and new pedestrian crossings that will link Helix Park, Falkirk Stadium, Forth Valley College and other future developments.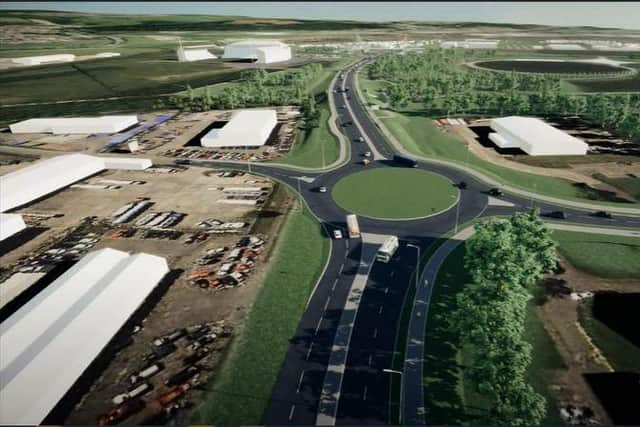 The UK government has now said it is ready to provide £14m of Leveling Up funding to help make the area more accessible for pedestrians and cyclists.
Invest Falkirk chairman Paul Kettrick defended the council's decision to push for the removal of hundreds of trees around the site in preparation for the works.
"I would like to stress that regardless of whether a flyover is included or not, these works were required for the scheme," he said.
Mr Kettrick said the works had to go ahead when they did to avoid the bird nesting season or the project would be delayed for another year, driving up costs even further and potentially losing funding for Leveling Up.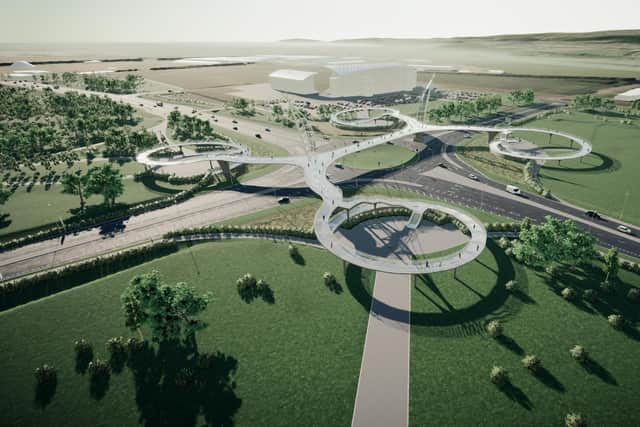 Any delays may also affect plans currently progressing for the Falkirk Gateway development site alongside the Forth Valley College campus.
The project – which took a decade to plan – promises to offer 'big box' retailers, office space and leisure opportunities including a new hotel along with new homes, including affordable housing.
The combination of the Westfield and Gateway projects is expected to create an additional 4,000 jobs and 276,000 square meters of additional commercial floor space over the next 15 years. There will also be affordable and open housing brought to the area.
Funding for road improvements comes through Falkirk Council's Tax Incremental Funding (TIF) scheme – meaning business rates fund costs rather than local residents.
Work to introduce the new design will be phased over two years and will follow the recent completion of the M9 Junction 5 Cadgers Brae improvements and previous work on the M9 Junction 6, both of which were delivered as part of the Council's TIF programme.
Cecil Mecklejohn, Chairman of Falkirk Council, said: "Today's agreement ensures essential strategic transport improvements can be moved forward at a much lower cost, which better suits the difficult financial situation of the council.
"This is a major milestone and will provide businesses with increased confidence that Falkirk and Grangemouth are great places to locate and work from.
"It will also pave the way for the development of the Falkirk Gateway site which will bring new retail, office and leisure opportunities to the area as well as jobs."
Consultant Paul Garner, spokesperson for Economic Development, said: "Working to improve our infrastructure will relieve traffic pressure, improve traffic flow, and help make the region a more attractive place to invest and do business. It will also make active travel easier and safer for everyone."