Find the perfect outdoor space to relax
Do you dream of having the perfect outdoor space to relax and unwind? If so, there are a few things you can do to create your own oasis. From choosing the right furniture and plants to designing a comfortable seating area, here's how to make your outdoor space look and feel its best. With a little planning and creativity, you can turn your backyard into an inviting haven that will help you escape from the hustle and bustle of everyday life.
1. Start by choosing the right furniture:
Choose pieces that reflect your style and are comfortable to sit on. Consider adding a hammock or outdoor lounge chair for total relaxation. Make sure the pieces are also waterproof, so you can enjoy them outdoors even during wet weather. In addition to furniture, consider other ways to add coziness to your space — like adding pillows or pillows for extra comfort. This will help ensure that your outdoor space is an enjoyable place to be. Also, be sure to plan your furniture layout in advance – this will help you determine the best arrangement for maximum relaxation. For example, you can create a comfortable seating area around a fire pit or place two chairs facing each other for conversation.
2. Incorporating Plants:
Adding greenery to any outdoor space creates an inviting atmosphere and can help transform your backyard into a private oasis. From potted flowers to vines and trees, there are many ways to add beauty and color to plants. For more privacy, consider creating a trellis or hedge with climbing roses or ivy. If you want to bring in wildlife, add bird feeders and maybe even a small pond or fountain. Whichever route you choose, adding plants will bring your outdoor space to life. This will also help create a sense of peace and tranquility which will make the place more inviting. For example, surround your seating area with fragrant flowers or create a path of stepping stones surrounded by lush green plants.
3. Complete the look with accessories:
Accessories such as pillows, throws, and rugs can help add color, texture, and warmth to any outdoor space. When choosing accessories, consider how they work together to complete the look of your space — are they bright and cheery, or soothing and serene? Also consider adding solar lights, wind chimes, or a fountain for more ambience. Think outside the box, too – you might want to hang some string lights or add potted plants with herbs that you can use in your cooking. All of these little touches can help bring your outdoor oasis to life! This is your chance to make the space uniquely yours and to show off your personal style. For example, hang a piece of wall art or lay a colorful rug on the floor for extra personality.
4. Add a Porch Umbrella:
Adding a porch umbrella to your outdoor space is an easy way to protect yourself from the sun and rain. There is a wide variety of porch umbrellas because they come in all shapes, sizes, and colors – so you can choose the one that best suits your style. In addition, some also have features such as lights or fans that can help cool the area on hot days. This will make it easier for you to relax outside without worrying about it getting too hot or getting wet! Also, keep in mind that a porch awning can also help reduce energy costs because it adds an extra layer of insulation to your outdoor space. This way, you can spend time outside without feeling like you're wasting your energy.
5. Don't Forget Security:
When creating your outdoor oasis, don't forget about safety. Make sure the area is properly lit so you can easily see where you are going when it gets dark. Also, install railings around any raised areas in your backyard, and make sure that any walkways are wide enough to support furniture or plants that may be on either side. Finally, if you have a fireplace or fire pit, always keep a safe distance from it to avoid any accidental burns. These small details will ensure that your outdoor space remains a safe and enjoyable place for everyone. For example, you can install solar path lights on the sides of your walkway to light up any dark spots.
6. Don't Forget About Maintenance:
Creating an outdoor oasis takes more than just decorating—it also requires regular maintenance to keep it looking its best. This means cleaning up any fallen debris, such as leaves or twigs, and pruning the plants if they are overgrown. It also includes cleaning patio furniture and accessories, making sure walkways are clear, and checking for any potential hazards. If you want your outdoor oasis to remain pristine all year long, a little maintenance is essential! For example, be sure to sweep sidewalks or patios every week and add mulch around the plants to help them retain moisture. With a little effort, your outdoor oasis will look beautiful for years to come.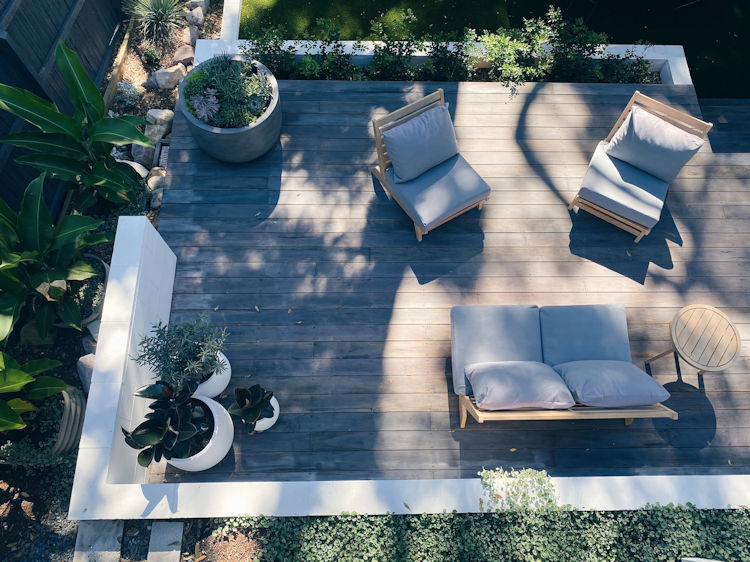 7. Keep it comfortable.
Your outdoor oasis should be a place where you can go to relax and unwind – so make sure it's comfortable! Add pillows, cushions, or blankets so you can kick back and relax when the temperatures drop. Also, consider investing in an outdoor fireplace if your space is feeling a little chilly—this will keep you and your guests warm during those chilly evenings. Soften hard surfaces with rugs – they can also add color, texture, and character to any space. Finally, ensure adequate shade when the sun is very strong. With just a few simple touches, you'll be able to enjoy your outdoor oasis all year round.
Creating an outdoor oasis is a great way to relax and enjoy the outdoors in your own backyard. With the right mix of furniture, decorations, safety precautions, maintenance routines, and comfort items, you can create a beautiful space that will be perfect for entertaining or just relaxing after a long day. By keeping these seven tips in mind—from adding solar lights to investing in an outdoor heater—you'll have everything you need to create a stunning outdoor oasis that reflects your personal style. Don't forget – with regular maintenance and some TLC, she'll stay looking her best all year long!