The best breakfast items to buy at H Mart this spring
We select these products independently – if you buy from one of our links we may earn a commission. All prices were accurate at the time of publication.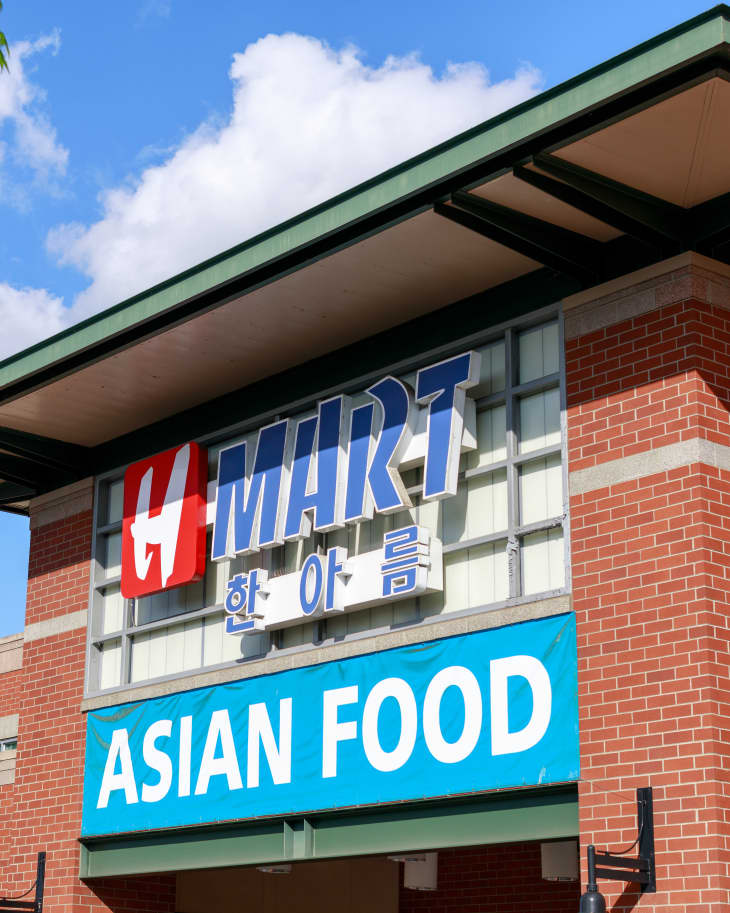 Here's the problem with H Mart breakfast shopping: Asian breakfasts are inherently different from American breakfasts. When I visited Korea as a kid during the summer, I was always bummed out by the jet lag for the first few days, and my grandmother woke me up at 9 a.m. to a full spread of meat, fish soup, rice, and a batch of banchan. This was especially hard because, for the other nine months of the year, I usually had a bowl of cereal and milk before I went to school.
Now, breakfast is the highlight of my day, especially bolstered by the endless array of options at my local H Mart. Cereal boxes no longer litter the top of my fridge; Instead, I drown in comforting soup, nourishing congee, and plentiful eggs! Breakfast is no longer an issue. Read about all the ways you can also make it fun.
1. Sweet Potato Sticks $2.49 a pound
This is literally what my korean parents eat for breakfast! In Korean they are called "one bite goguma", because their size is perfect for a single meal. Mom steams a bunch for the family, and she'll pair it with cream cheese (almost like a sweet breakfast loaded with baked potatoes!). I take comfort one step further by piercing some holes with a fork, wrapping them in a damp paper towel, and popping them in the microwave for a quick morning snack.
2. Kikkoman Instant Shiro Miso Soup, $3.99 for 1.05 ounces
In many Asian cultures, it's common to eat soup for breakfast (think: pho in Vietnam, or congee in China). In Japan, miso soup is an almost daily ritual, and for good reason. A warm bowl of soybean paste soup would be a relaxing way to start your day.
3. Ajishima Noritamago Furikake Rice Seasoning, $3.99 for 1.7 ounces
I've always been a fan of these furikake rice seasonings—my mom used to regularly turn to them for after-school snacks when I was a kid. Now, one of my go-to breakfasts is to microwave some leftover rice; Drizzle a little soy sauce, sesame oil, and a ton of freecakes on top; Garnish it with a fried egg.
4. DW Yangban Rice Porridge with Tuna, $2.99 ​​for 10.05 ounces
To be honest, I've never been a sweet oatmeal type. I'd go for a delicious rice porridge any day, so I'm glad I live in a world now where I can stock up on single-serving instant rice porridge.
5. Quail Eggs from Windy Ridge Farms, $4.49 for 5.5 ounces
eggs, but make them even more baby! Quail eggs are often used in Asian cuisine, but I also love cooking them into adorable little fried eggs. The possibilities are endless: a fried quail egg garnish on top of a good fried egg? How about a whole plate of fried quail eggs, like a viral little cereal? TikTok video is here somewhere.
6. Gourmet Farm Preserved Duck Eggs, $3.49 for 9.6 ounces
Also known as century eggs (they're not actually a century old), these preserved eggs undergo a chemical cooking process that turns the egg into an oval, inelastic, and very tasty, jelly-like texture. Eat it on its own or on top of tofu or silken tofu.
7. Smoked Whitefish, $14.47 for 1.61 pounds
One of the most surprising discoveries at the new H Mart near me in Long Island City is that I can now get whole smoked whitefish for less than the pound at my local place. I can't wait to throw a bagel and whitefish breakfast party for my neighbors centered around this good thing.
8. McNult's Brazilian Santa Rosa Hand Drip Coffee, $5.99 for 56 grams
I recently discovered these incredibly easy to use coffee packets. It folds and balances over your cup of coffee to create the perfect mini portafilter; Just pour hot water. I plan to pack a box of these on my next travels – this will be so much better than my old hotel coffee!
9. Prime Fold Steam Bun with Roast Pork, $9.99 for 20 ounces
Dare I say, there's no better breakfast sandwich than a roast pork bun (it's a sandwich, okay!). If I can't make it to Chinatown (or to my local Asian coffee shop that stocks delicious pork buns), I'll have these guys on hand for a quick microwave, ready-to-eat breakfast.
10. Shikoku Shikishima Choujuku Shokupan, $7.49 for 6 slices
I would argue that shokuban, or Japanese milk bread, is the king of white bread. It is soft, airy, creamy and sweet. Roast and eat them without having to lick the butter and they'll still be better than your basic supermarket brand.
11. WJ Nature Mandarine Orange Juice, $5.99 for 1.5 liters
I fell in love with Jeju oranges after my recent trip to Hawaii Korea, where these citrus fruits are plentiful and juicy. The tangerine orange drink distinguishes itself from the basic orange juice because it tastes like the natural oils of the orange, giving more brightness and a deeper flavour.
12. Binggrae Coffee Milk, $5.99 for 6 cartons
How can I leave specialty coffee milk off the breakfast menu? This coffee-flavored delight has been on Korean store shelves for decades (it used to come in plastic bags that you cut at the corner to slip into a straw). Sipping on this drink always makes me smile, and what better way to start the day?
13. Sahmyook's Soy Mix Cereal Milk Powder, $9.99 for 15 single-serve packs
For years, my mom has been making my dad this grey-and-brown shake, also known as misugaru, to take on his commute to work. I feel like it was a kind of predecessor to the protein shake: This multigrain powder has been consumed in Korea for thousands of years. Despite their color, they're very tasty, with a salty, nutty flavor reminiscent of a good cereal—especially when they come pre-mixed in soy milk as they do in these single packets.
14. HT Cheese Maru Ice Sandwich, $7.99 for 6 oz
Can you believe I include ice cream on this breakfast menu? Well, when it's a frozen cheese ice cream sandwich, how could I not? This, uh, breakfast dessert features cream cheese sandwiched between two slices of bread. It has a sweet, cheesecake-like flavor and is very soft and chewy. Check it out and let me know which side of the equation you think this falls under!
Made your favorite H-Mart breakfast menu? Tell us about it in the comments.